Maccer is a myth character in Grand Theft Auto: San Andreas.
Description
Maccer, a lead singer for The Gurning Chimps, became an established Epsilon figure following the events of GTA San Andreas, when Maccer mentioned his experience with the cult on his website, www.maccer.net;
"
These days, I'm all about Krant, right, as I've discovered a new and bettter way to look after meself. It's no longer a vicious and nasty trail of pregnant women, used up drugs and destroyed hotel rooms in my wake. Now, I am a man of the tract. oh, I know, I know, how could the chemical doctor sort his selkf out, kidda? Well, I couldn't. On me own, I was lost, proper lost, but thanks to Cris Formage and the fine folks at The Epsilon Programme, I've found a btter way to live. No more cocaine, no more heroin, no more ceaselss, boundless self pleasure. henceforth, ladies and mentle pateints, I am following the words of the tract! The world is 157 years old. Sperm is a lie! Proper truth, man, when you think about it, like. And, what's more, The Epsilon Tract only tithes at 8.75% so I've found salvation for a low, low price. You know what? Give it a try. You might like it.
"

–Maccer about his experience with the cult.
"
"Since I found The Tract / I've gone learnt the world is 157 years old - FACT! / Kifflom is here, drugs are weak / Maccer is back and now I'm meek"
"

–Maccer's New Lyrics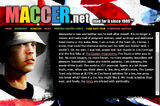 Over the years, it has been debated that Maccer assisted
Madd Dogg
,
Ken Rosenberg
, and fellow bandmate
Kent Paul
with their addiction and complications, with the help of the tract and is in fact a preacher for the Epsilon Program, directly affiliated with
Cris Formage
.
Ad blocker interference detected!
Wikia is a free-to-use site that makes money from advertising. We have a modified experience for viewers using ad blockers

Wikia is not accessible if you've made further modifications. Remove the custom ad blocker rule(s) and the page will load as expected.