The Conspiracy Theory is the idea that the widely televised moon landing of 1969 never happened and, that it was actually just filmed in a studio.
GTA Vice City
In GTA Vice City, there is a studio (which Tommy later buys) on Prawn Island that is full of props resembling those, which were seen in the "live" moon landing of 1969, supporting the idea of the theory. Some of these props include a lunar landing module, and a backdrop of the moon's landscape.
It was later believed to be the set of some feature films, however this was later discarded.
GTA V
In the film studio in GTA V, there are actors dressed up as astronauts. This could be another possible reference to the conspiracy theory
Video Investigation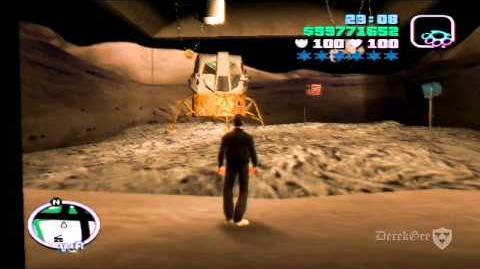 Ad blocker interference detected!
Wikia is a free-to-use site that makes money from advertising. We have a modified experience for viewers using ad blockers

Wikia is not accessible if you've made further modifications. Remove the custom ad blocker rule(s) and the page will load as expected.