Baphomet is an occult deity that resembles a half man half goat. The creature is usually associated with the Illuminati and Satanism.
Description
In GTA V, the image of Baphomet appears on the surface of the Alamo Sea. The face is formed out of the ocean foam, which is constantly shifting making it especially difficult to take a clear photo. Videos offer the most detail and clearly show the face of a goat with long horns.
Initially, the goat face was considered to be merely a coincidence, but as the popularity of the myth took off, many players are convinced this was included in the game on purpose. Throughout GTA V there are many references to the Illuminati, such as the All Seeing Eye symbol hidden inconspicuously around Los Santos and the Epsilon Cult, which has a very large presence in the game. Considering this, Baphomet, which is an occult symbol/deity, could be related to one of three nefarious organizations. Furthermore, the emergence of the wildly popular Goatman myth could elevate the significance of Baphomet and thus it could be a clue that Goatman exists.
Video Investigation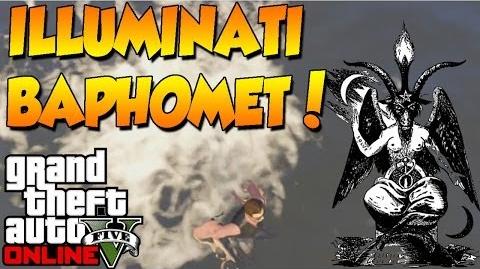 See Also
Ad blocker interference detected!
Wikia is a free-to-use site that makes money from advertising. We have a modified experience for viewers using ad blockers

Wikia is not accessible if you've made further modifications. Remove the custom ad blocker rule(s) and the page will load as expected.